How did I end up in China?
Well, to begin, it was a sudden decision and I thought I would make a trip to this beautiful and mysterious country and get to know the country and people. I am a real estate broker and always looking for new opportunities and connecting with new investors.
I was welcomed to China / Beijing by two dear family members of mine so I was lucky to have familiar faces to greet me. I tried very hard to ignore my jetlag and use every minute I have there to explore. I had a few other family friends to join us in a few days but mostly I was on a mission to make this trip a successful
business/ Real Estate trip!
HOW TO GET AROUND:
Beijing has excellent public transportation with an extensive network of subways and buses. There is no monthly pass or multi-day ticket. If you plan to use public transportation regularly you can buy a rechargeable IC card, the so-called Yikatong 一卡通, which you can use for both subway and buses. You can buy it at many of the bigger subway stations. Look for the blue sign that says IC Card. Or you can take a Sanlunche. Sanlunche, literally "Three-wheel-car", usually is a shiny silver colored "box" powered by a moped. Some Chinese also call it BoingBoing as the ride can be a bit bumpy. A Sanlunche is the Chinese version of a TukTuk or Moto rickshaw well known all over Southeast Asia. The fare is similar to regular taxis and should be agreed upon upfront. They can be faster in rush hour as they squeeze through in between cars, use the sidewalk, opposite lanes, etc., which also makes them more dangerous than taxis. Pedicabs or bicycle rickshaws are common In the downtown tourist areas and in the expat areas. They are great for short distances and through back streets but can feel a bit scary on bigger streets. You should negotiate the fare upfront and ideally have exact change ready. There have been a few reports about dishonest pedicab drivers. And of course, you can always walk!
While starting to plan my trip and my days, I found out by our host that we had to go to the local police station with our documents and register!
It wasn't fun to start this way, as you can probably tell by looking at this picture of me with my niece and nephews waiting for our turn and processing the registration.
I started by meeting a few real estate companies I have been referred to by some local people and introduced myself and as we talked about RE in NYC and US in general, they told me about RE in Beijing. I had fascinating encounters and was able to establish some roots in how I can help their clients/Chinese investors to park their money in New York City's real estate.Here are some pix from one of my meetings !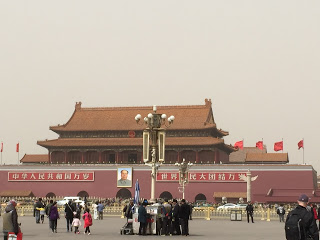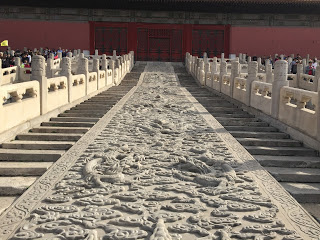 I have been to the Forbidden City, Summer Palace, Tiananmen Square, and of course the amazing Great Wall, and so many other places and took too many pictures…Unfortunately, I can only share a few of them. Since there is so much history in China, it's hard to write about all of them in detail. But here are some key points on some of the places I was able to see during my first stop.
The Forbidden City : Construction lasted 14 years and required more than a million workers. It served as the home of 24 emperors – 14 of the Ming dynasty and 10 of the Qing dynasty. The Forbidden City was declared a World Heritage Site in 1987 by UNESCO as the "Imperial Palace of the Ming and Qing Dynasties".
The Great Wall was built along an east-to-west line across the historical northern borders of China to protect the Chinese states and empires against the raids and invasions. Several walls were being built as early as the 7th century BC. These were later joined together and made into bigger and stronger walls. They are now collectively referred to as the Great Wall.
I love the great wall and at the same time it makes me sad since I know how many people died to build it… But somehow you feel connected with all those people who sacrificed a lot and then some to make this human creation that we can now see even from outer space